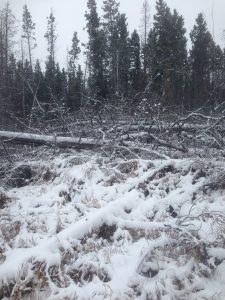 So I notice, as you probably have too, that I have been a little quiet here on the blog-site? You must be wondering what we have been up to?
So, since our last walk across the Dead Marshes we haven't done a lot of exploring until yesterday. Our days have been pretty low key; get up, pray to the sun gods, make a fire, tend the fire, make coffee when the clock finally signals that it is no longer an ungodly hour to perform said task; wait, wait, wait until Luke and the dogs get up; celebrate their waking by making breakfast! Go out with the dogs for a lil scout about the place. Then, make a great big, fat fire!!!
After the morning routine I'll go out and putter around in the orchard, clearing up some deadfall, clip down some lil fellas; there are far too many of them to allow them to grow. Well, truth is, they are growing so tightly together they would never amount to anything anyway so off to the fire with them. A few select pines will be allowed to remain, ones that are already established but the rest have to make way for fruit trees. I have lately been thinking that I might also put in some raspberry-type bushes, blueberry, gooseberry, currant bushes- we'll have to see what the soil is like and what it will support. And whilst Lumberjack Luke is cutting down trees, we will have to collect a fat lot of them to build us a fence to keep Mother Nature's critters out of the orchard. Somehow I don't think Bear and Sam's ritual Bark-a-Thons will keep the animals at bay.
As I mentioned, we often, well, daily actually, pray for sunshine! Even if, as dawn grows to day and the stars fade away to a bright blue sky, we still have to pray to the sun gods as we have discovered that those bright blue mornings mean absolutely nothing! A blink of an eye and the clouds, appearing out of no where, sock us in! Then again, other mornings we get up to gloom and doom and then VOILA, brilliant sunshine! So we have learned to live with what we get, moment by moment. And what and how we do things really is determined by the sun. I posted on Facebook this morning that I would love Mr. Sun to stick around long enough to dry the load of laundry that has been hanging since our last sunny day which was…bah! I can't even remember when it was!  Oh…shhhhh…there is Mr. Sun now, poking out over in the south east! We mustn't scare him off…I'll type a lil quieter now, if that's alright with you?
So yea, that's a big thing; when to do laundry. Or as is the case, when NOT to do laundry. Next trip to the Big Smoke and we are going to have to invest in more socks and underwear!  And I know that using the shower uses fuel but I think both of our bodies are making a stand and demanding a return to daily showers! Another big consideration is how to cook. If the sun is shining I am free to use any of the lovely electrical small appliances stacked up in my "appliance garage" and the cooking is free and easy! Well, almost; there is still the matter of all the washing up and let me tell you, when I get to cooking/baking, there is scads of washing up to be done! If Mr. Sun does not grace us with his presence then I use the stove and burn precious fuel; I try to keep stove-top cooking to a minimum but, truth be told, I find that a bit….no, a lot…difficult. You see, cooking/baking is WHAT I DO. It is what keeps me sane. It is what I LOVE to do. Okay, as I typed that a thought went fleeting through me head: "I'm going to have to find a new hobby to keep me sane" and I think I have an idea what it might be! I'll tell you about that in a minute but first I HAVE to tell you about the Lunch I cooked yesterday. Oh yea, we have decided that large meals will be at Lunch Time which allows me to cook by daylight and not candlelight; my eyes will thank that decision! Right, Okay, so people on Facebook have been posting Sweet and Sour This and Sweet and Sour That; I can't even tell you the last time I had Sweet and Sour Anything! One of the pitfalls of being a Vegetarian in a non-Vegetarian world. So I googled it. And folks? Yesterday I made absolutely delicious Sweet and Sour "Meatballs" using Chick Peas. Which also afforded me the opportunity to try that aquafaba Meringue recipe I have seen floating around Facebook. What's aquafaba, you ask? The liquid drained off of the Chick Peas. And yup, the Meringues are AHMAZING, but the Star for the Day was definitely the Sweet and Sour "Meatballs"; I'm salivating just thinking about them!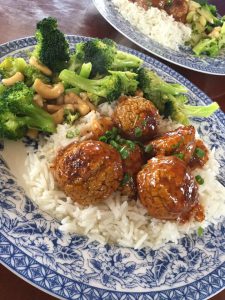 I have to say, the thing I liked best about the aquafaba Meringues is that they didn't taste like egg-whites! I don't even like the smell of egg-whites. I am thinking with aquafaba, French Toast may be back on the Menu after a 36 year absence!!! But first things first, the "meringues"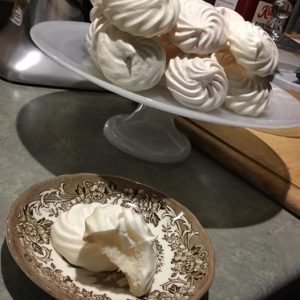 Okay, went off on a food tangent there! Sorry 'bout that. Nah, I'm not! It's what I am passionate about. But I digress, I was saying that we had not done a lot of exploring since the Dead Marshes. Well, actually, I have done a lot of scouting on my own, just here by the Earthship- down to the Lake Point, down the front just below the orchard (where I had my last big fire) and along the trail to Moose Hollow. By scouting, I mean, assessing the amount of work that needs to be done to make the dream a reality. Seriously, sometimes I come in from my scouting trips and just curl up on the recliner because I am that exhausted just thinking about it all!
Anyway, yesterday when I got up in the wee, dark ungodly hours of the morn it was snowing. And it was still snowing when everyone else woke up. A lil snow was not going to stop us from going for a walk though. To the Boathouse. We haven't been over that way in ages. Luke bought a giant D-saw that he has been dying to try out; guess he didn't like it that much as he left in behind in the Boathouse! I think Luke was scheming the whole time; what he REALLY wanted was to walk around the lake! It HAS been freezing, rather below freezing most days this past week so I reckon the ice is thick enough? To be safe we could just stick close to the edge, right?
What fun! So nice to have finally seen more of the property…I think. Man, I think the blow downs and dead fall around the Earthship was thick, you should see the other side!!!! What a tangled web. I wouldn't be surprised if Shelob was in residence over on the other side; it did have a bit of an eerie feel to it. Or maybe that was me just being a scaredy cat? I have to admit, the ice didn't sing out once! Bear thought he ought to give me some grey hairs though since Benny and Alex are no longer in residence to oblige; our dare devil dog would wander out onto the lake! Again, I'm pretty sure it's frozen solid enough but, well, you  know, Bear is not known for being a lean fella.
Next up? I look forward to the lake being frozen through and through so I can go and check out the lil islands! On that note, I will leave you today with this lil slideshow.
Enjoy!
https://youtu.be/JiWh9KGby0U