Friday, March 24, 2017.
First off, a huge shout out to our daughter Anita whom celebrates her birthday today! Hope she had a great day, getting spoiled by her fellows!
We didn't get up to a lot today. Luke worked. I cooked lunch, did laundry, did a bit of cleaning. The highlight of the day was our walk down to the Boathouse. What a walk! There is still HEAPS of snow on that trail! Heaps! And the lake is still looking pretty frozen but we aren't going to test out just how frozen it is; it would be a long, cold walk back to the Earthship in the event that one of us fell through the ice!
I have to say that while we love going for walks with Bear and Sam, we are finding with the advent of Spring, the snow and ice starting to melt which is creating a whole lot of dirty puddles and deep, boot sucking muck! Bear and Sam's paws and underbellies are coated in muck when we get back home. I make them lay out in the greenhouse until their mucky selves become a lil more manageable.
We are looking forward to watching the land around us come to life over the upcoming days, weeks but most of all, we look forward to dryer climes and longer days!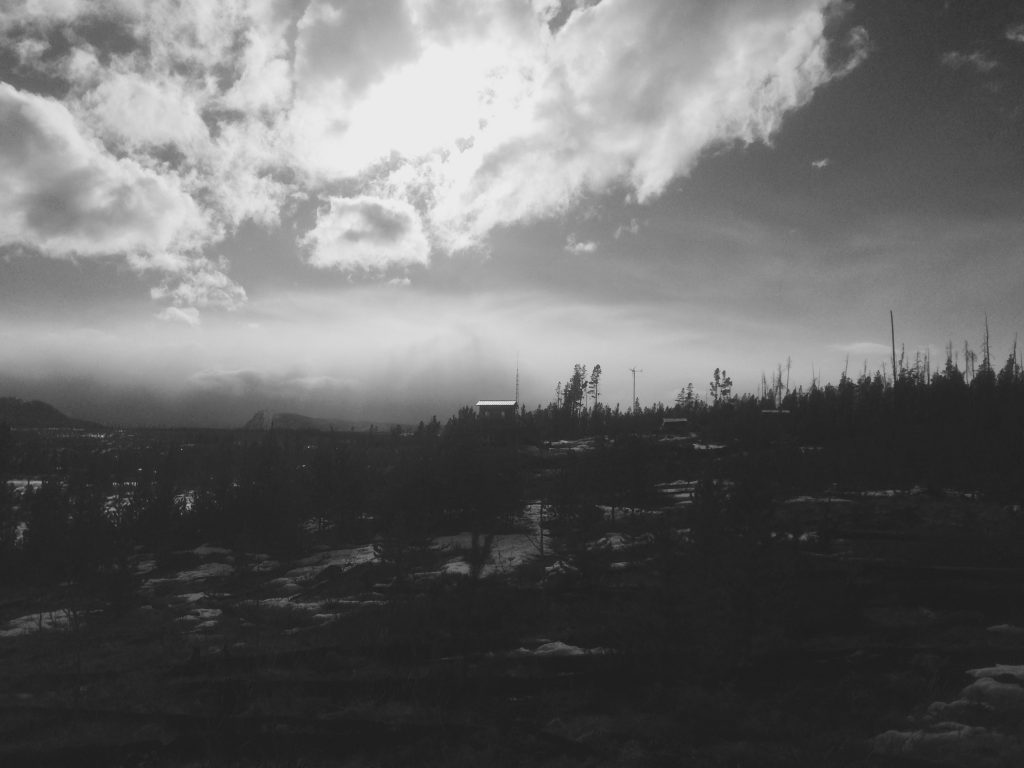 Saturday, March 25, 2017
Had a go at Sourdough Pancakes this morn and then got stuck into some work outside! We are in the process of building a trail from behind the sheds that will go over and meet up with the Boathouse Trail. Luke felled one dead tree standing and spent the rest of the day cutting fallen trees into carry-able lengths or bucking them up for firewood. We also cleared a lot of lil saplings, heaped them into piles for burning. I did make a fire but it was super windy and a  lot of the trees, branches were super wet from our last dump of snow so it was more smoke than fire! It's a huge process, this clearing! We are separating the wood into categories: Burnable, Saplings (read burnable) decent trees possibly used for building stuff, and last but certainly not least, Firewood! Now, did Luke stop when he did because a) he was just that tired and didn't want to do anymore? b) he got to the top of the hill? c) there got to be too much snow on the ground to safely get into the woody fray? He says, c) the snow got to be too deep for him to safely cut anymore trees.  Anyway,  it was a beautiful sunny day, albeit very windy. It was good to finally be outside doing stuff again!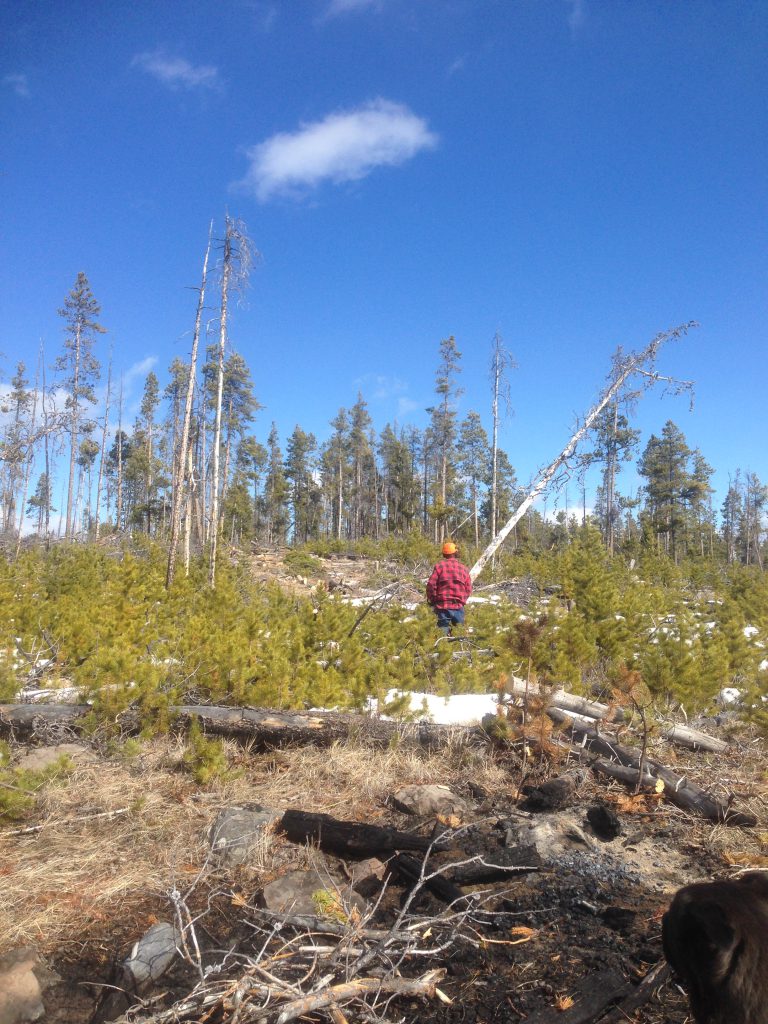 Sunday, March 26, 2017
Wow! Woke up to a very cold and grey day today! But not ones to be stopped by a lil inclement weather we headed back out to work on the new trail after another batch of Sourdough Pancakes…still not happy with any of the recipes I have tried.
It is very windy again today! But I was smarter today and made the fire in a spot where I would NOT have to walk in the smoke to load more stuff onto the fire! Clever, right? After Luke hauled all the firewood down to the shed and I had gathered up all the burnables we were left with a much tidier trail! Still heaps to be done but we are happy with our weekend working out of doors!
After we came in we were treated to a about 30 minutes of watching a lone wolf hunting for food. Poor fella must be pretty hungry if all he can catch is mice? Up on the boathouse trail we see heaps of bunny tracks; wonder why he isn't hunting those?
The itty bitty spot on the ice is the wolf…we so need a better camera!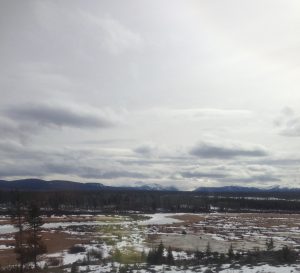 Monday, March 27, 2017
On a personal note, I forgot to take my daily double  dose of thyroid meds this weekend which left me feeling pretty awful on Monday! I forgot to take Monday morning too but remembered a lil later in the day.  That's what tends to happen when I get up and start doing stuff straight away. Must remember to take meds!
Because I wasn't feeling the greatest I had a quiet day, only doing a bit of baking and trying a new soup recipe in the InstaPot. Everything turned out great!
After Lupper I had a lay down with Bear  and Sam, listening to Season 8 Dr. Who episodes; the one where Danny Pink is an astronaut onward. I so love Clara Oswald!  And I am finally on board with the new Doctor…I think I am on my third go through Season 8; took me a long while to warm up to Peter Capaldi!
After Luke finished up for a bit we took Bear and Sam out for a walk. We tried to plan a walk that would leave them with the least muddy paws; we were going great but then I threw Sammy's ball for him, it landed in what looked like plain old grass but in actuality was a great big ol' mud hole and it was game over! Ah well, we tried. So we walked along the front then went up along a rough path to where the excavator used to sit, along the muddy lane to the Boathouse trail, along that trail until we got to the trail we are currently working on. It's a good trail at the mo because it is still covered in snow and the dogs stay MUCH cleaner! The downfall is that there is a lot of blowdown between the Boathouse trail and the new trail. Bear has a wobbly back end so he has a difficult time with some of the blowdowns; sometimes he goes around, if he can; sometimes Luke lifts his back end over for him; sometimes he goes under; and sometimes he grabs onto a branch of the blowdown and just tries to move it himself! He is a great helping dog.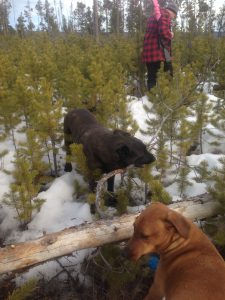 Now we have been seeing a bit more wildlife; there has been that lone wolf, tons of different birds, well, by tons I mean we have identified you know, the symbol of Spring – the Robin, a beautiful Blue Mountainbird, we are seeing more Whiskey Jacks or Grey Jays, as they are known around here and a lil fella that we haven't sussed out just yet. They sound lovely!
Our newest guess is a delightful river otter! I am going to say there are a lot of fish in the creek because he has set up camp! He is very entertaining to watch! He dives down into a hole in the ice, catches a fish, brings it back up and then sets about eating his catch; in between fish he often rolls about on the ice – probably trying to shake some of the freezing cold water off his body! He doesn't seem to phased by our presence. We only go to the end of the lower paddock to watch him; to go any closer would surely have us fishing one of the dogs out of the creek!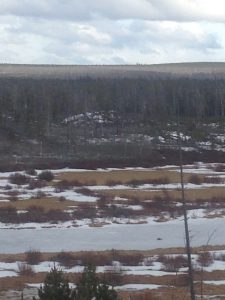 Tuesday, March 28, 2017
Not much going on today. But, I did have a great start to the day! Benny wanted to have a chat with his Granny! Best way in the world to wake up!
After our lil visit I decided that I am going to make every effort to make my way down to the Valley for Easter. I hoped Luke would come with but he just is not set up to be able to work remotely anywhere except here; he really needs to get a laptop for work so we can be a lil more mobile, I reckon. Michael and Hayley have a spare room that I take up residence in when I go down for a visit; I have asked Michael to please put a desk in there so Luke can come along, set up his computer and happily work from there with the conveniences of a flush toilet, unlimited hot water, bandwidth dreams are made of and unlimited downloads!
Now, please don't be shocked…I didn't take a single photo today! Well, except food photos but I won't bore you with those. I have been growing a Sourdough Starter and I made my first Sourdough Bread today! It was alright. Not the greatest. I'll try again next week. Also made Spaghetti Bol in the InstaPot; that was a complete success! Loving that InstaPot! What a great investment!
Wednesday, March 29, 2017
Shocker! Got up and what? Snow! Ugh. I had planned on going out and doing a bit of clearing, maybe some burning but nope, not happening. What a mood killer! Now in the dead of Winter you just dress for the weather and go and do stuff but this in between Winter and Spring Black Hole is impossible! It's slippery, it's muddy, it's mucky – I mean you put your foot down and it disappears up to your ankle in M U C K !!! Blech! I can't stand that feeling; that sound, that smell! And that's just my feet. I really dislike all of the aforementioned mess on Bear and Sam's paws! That is a lot of paws and two large underbellies that have to be thoroughly cleaned after each trip out doors!
Which brings to mind. Forget about trying to have clean floors! I tried for a day or two but I have thrown in the towel on that one! Well, literally, I have thrown down the dog blankets! All of them! You can no longer see the floors downstairs for all the dog blankets but at least I don't have to contend with muddy dog prints!
I didn't get up to much today; couldn't even really cook because we are still going through leftovers. I miss having people to cook for! I did have a pineapple sitting on the bench from our last shop that was desperately needing to be used up so I decided to lift up my lagging spirits by making Pineapple Upside Down Pancakes for Lupper. They were AMAZING! And I made a teeny tiny batch so no leftovers there!
Thursday, March 30, 2017
Decided to finally bring in the laundry that has been hanging in the Greenhouse for a few days. I opened the windows on both ends of the Greenhouse to get a breeze going through that might blow away any remaining dampness in the drying clothes. That's the problem with the clothesline being in the Greenhouse; if there's no sun then the clothes don't dry very well. In the dead of Winter I was hauling the air dryer into the loungeroom and setting it up in front of the woodstove. Major pain. We are going to put up a clothesline once the ground has thawed enough to dig a hole. It's going to have to be super reinforced in the ground as the winds tend to rip through here like nobody's business! Anyway, once I can hang the laundry outside maybe our clothes won't feel like cardboard? The wind will soften them, right? I got wise quick and got my Norwex rep to order some bath towels for me; they are heaps better than scratchy cotton towels!
With the, once again, cold weather we have had to light fires in the morning, and actually kept it going through the day yesterday because it was so cold. Last weekend Luke bucked up some firewood but he didn't split any; bad move! We are down to a dozen pieces of firewood and zero kindling. I have tried my hand at splitting firewood but I keep missing the mark! Maybe I should keep my eyes open? Kindling? That I can do! And in the comfort, or lack thereof, of the Greenhouse. I got stuck into the job of replenishing the kindling and whilst doing so, really became disgusted with the state of the Greenhouse. Think I may have a case of Spring Fever.
Once the kindling was done I hauled down the topsoil I bought while in William's Lake and got stuck into tidying up  the garden beds. Once that was done I noticed that despite the lack of sunshine I was still quite w a r m so I thought, hey, I should try planting some seeds!  I spent an hour or so tending to my herb garden and then planted a bunch of seeds. We'll see how it goes, right? If nothing comes of it, at least it kept me busy and what did it cost, really? A few seeds. I have more of those if these ones don't take.
Friday, March 31, 2017
Yes! Got up today to the Sun shining! After morning chores and meal prep which included making Sourdough Burger Buns, I set the timer while the bread dough was proofing and headed outside. Oh, man! After being cooped up for a few days it felt great to be outside!
Yesterday while sitting at the table I looked out the east facing window and thought I saw a bear! There are A LOT of saplings over that way! A LOT! Line of sight is important because it just so happens that is where our Bear heads when we let him out. And no, he was not outside when I thought I saw the bear.
Anyway, timer set for 90 minutes I armed myself with my handheld secateurs and a set of pruners, ready to do some damage! I selectively thinned some of the saplings and the ones that remained standing got trimmed of their lower branches so we can at least see beyond them. Cutting saplings down with pruners is hard on the back, let me tell you! I much prefer trimming branches but then, you know, I have to bend to pick up all the trimmings and throw them into a pile or onto the fire. I did get a fire going but everything is so wet that it was not catching very well so I had to slowly throw a branch on every now and again until it got well established.
And then the timer went off and I had to go back inside to finish making Lupper. Vegetarian Teriyaki Burgers on Sourdough Buns. Yum. But what a lot of dishes! S'all good; I like doing dishes. When there is a mountain of dishes to do, you methodically wash, rinse, drain, wipe, put away and carry on until the mountain has moved from one side of the bench to the other and you get this great feeling of accomplishment! Well, I do.
Once Lupper and dishes were out of the way I went back outside and carried on with my battle against the saplings. I want to say that I am, we are, now winning but it is just so hard to see any accomplishment because of the sheer number of saplings! And so many of them need to go. We have been itching to work on their removal for a few weeks now, hoping and praying the weather would cooperate and melt the snow so we could get out there and get stuck into the job of clearing!
Slow and steady wins the race.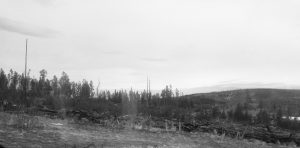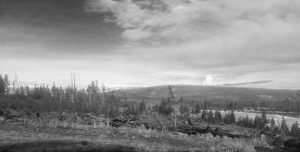 Righty oh! See you next week!