So it snowed heaps yesterday. It started snowing in the late morning, early afternoon…sometime after Luke and Sammy's fall through the ice. Oh, you didn't hear about that? Yea, Luke and Sammy fell through the ice when we were out snowshoeing on New Year's Eve. We had decided that we were finally going to go and discover Casselman Creek! Bear was well rested and had not been out much so he was in good stead to go for a walk; Bear is usually the reason our adventures are cut short these days as he doesn't seem to cope with the cold weather despite that thick furry coat of his! Sammy, short-haired lil fella is game to go ANYTIME, anywhere on the condition that we move really FAST!
Anyway, we set out, actually a lil braver than we have been in the past and walked hmmm…20 metres away from the creeks' edge; as we got closer to Casselman Creek the ice we were walking on made a huge cracking sound so we headed closer in to the shore and stuck to the shoreline thereafter and a good thing to because as we progressed up Casselman slush started to appear in our tracks. You know me, I got up onto shore and continued on, trailing behind Luke, Bear and Sammy. To my horror, I watched first Luke fall through the ice and then lil Sammy! Lucky that Luke was close to the shore and got away with just one foot fully immersed in the cold, mucky, icky, sticky sludge. Sammy was a few metres away from Luke but he also went through the ice and the lil fella panicked like crazy! I seriously thought I was going to have to throw myself onto the ice and fish him out; he was out a lil deeper than Luke and his lil legs couldn't touch the creek bottom. My heart was in my throat as I watched my poor lil guy struggle. To be sure, all of this transpired over a 3 minute period but still…
Lesson learned! Well, I was already pretty cautious but Luke is a bit more of a dare devil! HE learned his lesson. On our way back home we stuck to the actual shore along Casselman Creek, stuck to the lakes' edge until we got to Brittany Creek and then got a lil more daring again-we have been traversing up, down, over…not under…Brittany Creek for weeks!  We got into the house, laid out Bear's bed in the loungeroom in front of the fire where Sammy recuperated from his encounter with the icy cold waters of Casselman Creek. Bear was a lil jealous of all the attention Sammy was getting so Luke rubbed soothing ointment into Bear's paws; Bear, satisfied!
I was going to share with you the link that Luke went to regarding rules for frozen bodies of water bearing activity but he was all over the map in his research! One of the things that he read is that closer to the shore is actually more unstable so that's kind of freaky! That's where we tend to stick to; having said that, at least if we do get into trouble at least the water is not deep and we will be able to get ourselves sorted out pretty quickly. Imagine if that break through the ice had occurred in the middle of Brittany Lake!! The outcome may have, probably would have been more than just a wet boot and a wet dog!
Enough about that. On Wednesday last we took a lil drive to Anahim Lake. Curiosity I reckon. And Luke needed fuel for the chainsaw(s) and the generator. And he had been poking around the internet and found they had a couple of "trading posts" there. So off we went! Chains on the truck, and good thing to because getting out was a lil hairy in some spots! So what is it? We have a kilometre long lane to the Earthship from Casselman Raod; don't get excited, it's not a road in the sense you are used to- it's really just a dirt track in between countless pine saplings, some tottering trees that survived the forest fire of 2012 ( I think that's when it was) Wait! I have the internet!
Okay, I looked it up and it was in 2003 and if you feel like reading about it, do so here:
http://fonv.ca/media/research/Roads_To_Nowhere.pdf
I liked the title, Roads to No Where and that is where we live! And there are a few pics on the document and darn it, they look like our road!!! A rough track through the forest! So have I told you about how to get here?  Well, let me reverse tell you, all up it is the aforementioned 1 km up our lane, 3-ish km along Casselman Road, 10-ish km along Chilko Lake FSR, 30-ish km along Tatlayoko Lake Road and there you have it. But here, let me tell you, in more detail about the route to our place.
You take Highway 20 to just before Tatla Lake, turn left off the highway onto a narrow paved road which quickly turns into a lovely maintained dirt road; I don't know the names of the roads which is largely due to the fact that I assume these dirt roads don't have names! (In rereading this post, it turns out I do seem to know the names of the roads!) Anyway, follow that lovely dirt road for about 30 kms then cross over "the big bridge" as it was first described to us; for you folks back home, it's like the bridge you cross over on your way up to Cheam. Or that lil bridge over Chipmunk Creek. Oh, I know;  not quite as big as the bridge over the Chehalis River! Got me? Okay, so that big bridge is over the Chilko River which is where we go to get our drinking water.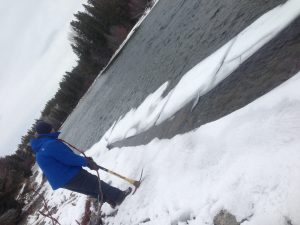 Oh, I forgot to tell you to turn left at the Cochin Refuse tip sign. Luke says there is a sign that says Chilko Lake, Tsuniah Lake….humph…that sign has eluded me? I don't recall it at all! Guess that is why I was so freaked out the one time I did the drive to William's Lake by myself! Luke didn't give me any road names he just said turn right here, turn left there, follow that road until….Anyway, then you go along the Chilko Lake FSR for 10 km before turning left onto Cassleman Road and that's where things get dodgy.  And DON'T forget to turn here or you end up on an…adventurous drive toward Tsuniah Lake with only sketchy places to turn around.  Casselman Road  is a really rough road and I think it must be Murray Taylor Creek that looks like it is just biding its time before it swallows the road! So not looking forward to the Spring thaw. (Dethaw, according to Luke) Righty, so you travel along Casselman Road for about 3 km and then there is a left turn; there's not much of a chance you will miss this turn because to continue straight along you would want a beaten and battered off road vehicle that you would trust to get you anywhere – if you're not driving something like that, you won't even consider going straight!  Ah, but the lane to our place? Holy crap, it is rough as guts! We will do our best to tame the wild beast as time and weather permits over the Spring, Summer and Fall of 2017 in order to entice more of you to come and visit. Oh, and when you do visit, don't be surprised if we throw a pick, shovel, D-saw or hammer and nails into your hands and put you to work; I promise, you will be well fed…on the groceries you will deliver to us…and we will have somewhere comfy to sleep and you will sleep well! Oh, our lane is 1 km of teeth jarring expanse you will be happy to be over and you WON'T want to leave once you get here because, well, you will have to driver over that!
hmmm…a comparable, rough as guts FSR that you might be able to relate to? The upper reaches of the drive to Cheam but minus the ditches, except for that Murray Taylor bit but it's not so much a ditch as it a drive through a gigantic puddle, and there isn't a grade to speak of. Hope that helps you put it into perspective. The previous owner told us we would likely enjoy the drive more during the snowy Winter and while it can be dodgy, he was definitely right about that ! It seems to be heaps more easy to drive on the compact snow!
Well, now that you know what our lil drive from Highway 20 is like you can better comprehend why we don't venture out that often! But I digress; our trip to Anahim Lake. So the Trading Post we pulled into was a rustic place, popular as, though! Luke filled the truck with fuel as well as filling the chainsaw jerry cans with premium petrol. While Luke was out pumping fuel I ambled through the 4 aisles in the shop, picking up this and that which eventually led to my having to search out their adorable lil shopping trolleys!  I was completely delighted to find a small assortment of fresh produce; a big deal to a Vegetarian! They also had a limited supply of deli meats which I got for Luke; a very limited choice of cheese from which I selected a marble cheese as we already had cheddar, havarti and mozza at home; I picked up their last case of mandarin oranges!!! Oh, yum! They also had a single litre of eggnog left which I knew Luke would totally appreciate! So we spent a few dollars at the Trading Post and you know what? It was fun!
On our way back we had to stop in a Nimpo Lake Trading Post as Anahim didn't have any distilled water which Luke needed to fill the batts. I went in to the store with Luke; big mistake! I remembered all the things I like to have on New Year's Eve so I picked up olives, kalamata olives, Triscuits, Socialbles, Sweet Pickles…okay, salivating now just writing about my New Year's fare!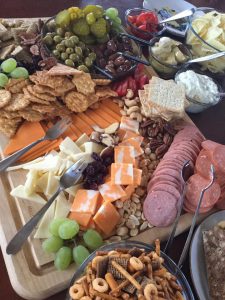 The Charcuterie Board I was able to build with ingredients bought at Anahim and Nimpo Lakes Trading Posts. I won't tell you how much I spent but I will tell you it took us 8 hours to drive there and back again! But well worth it!
I have so much more to tell you about but like I said at the beginning of this post, it snowed heaps last night and all our hard work removing snow has been rendered undone! Luke is out there shovelling like crazy but I suppose I better man another shovel and give him a hand. Besides it'll rack up my Steps quickly! Oh, and to your delight or chagrin, one of my New Year's resolutions is to write more.
Until next time, folks, Peace out!