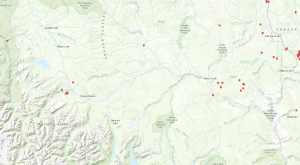 Summer 2017 Wildfires; A very trying time.
The map shows where we are located in relation to the fires. While not directly threatened it was still a difficult Summer for us. We are the little horseshoe lake left of Nunsti Provincial Park
Again, have yet to suss out Gallery function….please use your Browser Back Button to take you back to the Blog Page after you view each photo; the Next and Previous arrows within the Gallery seem to skip photos. Sorry for the inconvenience. 
Sigh. The Constant Watcher. Always Anxious. Do We Go or Do We Stay?
Eventually we did make the decision to leave even though we were not directly in the line of the fires. Our food stores were running low and it was impossible to predict whether or not Highway 20 would remain open so we packed up, in hindsight, a bunch of random stuff! The most important things made the cut: our animals – thank goodness we only have two dogs and a cat, our computers and the rest really was just super random! I hope we never have to evacuate again!
This series of photos show the plumes of smoke and just the over all smokey haze that we had to deal with all Summer long. Even after we returned in mid August we were still smothered in a smokey haze as the Kleena Kleene fires really took hold. We remember taking the lil grandsons to Nimpo Lake for Ice Cream back in late June and watching the planes flying over the Miner Lake fire…who knew it would become what it did…
When I drove out to Anahim Lake to pick up Luke's folks in early September Kleena Kleene and area were STILL on fire!
At one point, just not knowing, we even explored the idea of escaping the forest fire by setting out onto Brittany Lake. The motor for the tinny is a rechargeable battery; it did not last very long. Bear and Sam went out in a boat for their first time ever and once Sammy had lost his lunch (blech) they both settled decently. We'll have to take them out again under less trying circumstances.
The drive out Highway 20. Oh my. We got stopped at Riske Creek as the fire was threatening to jump the highway. We had trees, just there, beside us, burst into flame. Deep sigh. When we finally made it to William's Lake we pulled into the parking lot at the Tim Hortons; seems the whole WL Police force was there too! And Main Roads teams. While Luke frantically searched online for a way out I hopped out of the truck and simply asked a police officer. He recommended Highway 24 (because Highway 97 was closed) but that is when the Little Fork fire was raging out of control so we had to drive North to Prince George to go South!
At the Highway 5 – Highway 24 junction we joined the caravan fleeing the North. That was a very, very, very long night! We thought we might stop for a rest in Kamploops but once we saw how many other people were heading into the 'loops we just got onto the Coquihalla and kept on going – that was at 2:00 in the morning. We pulled into Chilliwack at 5:30 am, 17 long hours after we had left the Earthship.
After a brief rest we hit the local White Spot for our first meal in 36 hours! Luke thoroughly enjoyed his Vanilla Milkshake! We spent 3 weeks in the Fraser Valley where Luke worked from home. Lucky for us, there is always a silver lining, our son Michael and his wife Hayley had purchased a great big four bedroom house at the same time we purchased the Earthship so they had plenty of room for us to stay.  We're also super fortunate that they let us keep Bear and Sam with us…and Billabong. We had had visions of our pets being dropped off at a kennel which really distressed us!
Luke continued to work from home but made a few trips into his office in Burnaby. I think it is safe to say that he does NOT miss the commute into the city!
And finally we have a couple of shots of rain falling. Thankfully we got a few drops of rain; not nearly enough to put out any fires though.
I've also showed you how lovely my Greenhouse was looking before we left and then the After shot; everything withered and dead. I trimmed back the herbs which then bounced back but everything else had to get pulled out.
Before we left I had the foresight to gather up all my houseplants and stuck them all in the cold room where they survived our absence! Yay! Silver linings.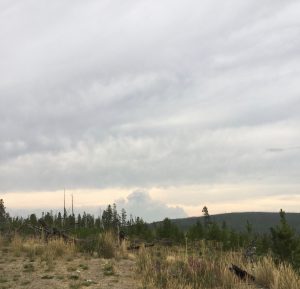 Anxiously watching plumes and smoke from the fires
This is just a short vid of the sound of falling rain.
Whew. That was a trip down Memory Lane.
We are thankful that the fire did not encroach our area but are devastated for those around us who were affected by the fire. Those who lost their homes in the fire. The animals that died.
Keep our forests safe!