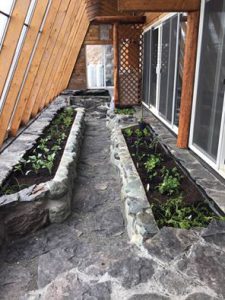 After a hearty breakfast of Rolled Oats with a plethora of toppings to choose from it was time to get the day started. I got stuck into unpacking the kitchen, again. So many boxes! Ryan and Tony packed up their gear in preparation of their return to the Fraser Valley. They may have gone for a walk? I don't know. I was stuck in the kitchen. And was thankful to be stuck in the kitchen when they actually left because, let me tell you, it was difficult to watch them go! I am so thankful that Ryan wanted to help us with our move and extremely thankful that my brother Tony volunteered to come along, lend a hand and help Ryan with all the driving of the rental truck. We could not have made the move as easily without their help.
Luke also left when Ryan and Tony left. He was taking the water bottles to be filled at the Chilko River, had to go into to Tatla Lake to set up a PO Box, and drop into the Health Clinic to find out when the mobile blood unit is there for my bi-monthly tests.
I was home alone. Well, Bear and Sam and Bill and I were home alone. I stayed in the kitchen for about a half hour after everyone left because it was easiest. I really just wanted to have a lil cry. I talked myself out of it and to reward myself I quit with the unpacking and went and got stuck into the greenhouse; so many seedlings to plant!!! I planted an herb garden; some cauliflower, broccolini, kohlrabi, carrots, spinach, green onions, garlic chives, lots and lots of lettuce and I think that's it. I really wanted some lil tomato plants but the nursery I went to didn't have any. No worries, I have seed packets and I have organic seed starter stuff so I will see how I go with that.
Unfortunately the greenhouse only took about an hour so I got stuck into unpacking the kitchen again. Bah! Would I ever see the end of the boxes?! After a few hours Luke returned from his errands and he wanted to take the dogs for a lil walk down to the boathouse. He asked if I wanted to come along; I did want to go but at the same time I was so tired. I thought I should stay home and rest. But then, I don't know, something inside me said I should go, so I did. It was a lovely lil walk with my guys. I'm glad I went.
It was fridge fallout – oh, did I mention that we don't even use the fridge? There is a cold room just outside the door and that is where everything that needs refrigeration is kept. I haven't sussed out the frozen stuff yet. I will say that I am super thankful I am a Tupperware fanatic! All my stuff is in Fridgesmarts so I know everything will stay as fresh as possible for as long as possible in those babies! Yay Tupperware!! – oh yea, fridge fallout which was leftover lasagne and leftover pizza.
The other big accomplishment on Monday was getting my iMac set up. Oh, how I have missed having my computer!!! It's all good to have your phone and an iPad but there's something about sitting down at your computer and typing up stories! Now I just have to sort out WordPress again and you all can follow along on our journey here in Brittany Lake. In our Earthship. Where the snow DOES fly! Where we haven't any neighbours, at all. Where the silence is golden.